Certifications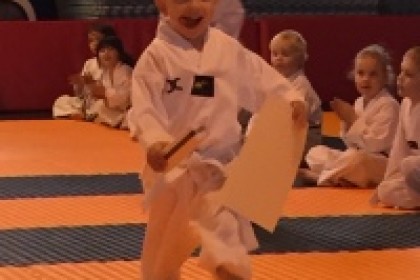 Today our son Ethan passed his first Taekwondo grading at 3 years old.  This was an event that left my wife and I extremely proud. I studied Shotokan karate for many years but I didn't start until I was 15.  It took me until I was 27 to finally make the grade to the prestigious black belt. Karate gave me the confidence to attempt things in life I would not have otherwise done.
We wanted this for our son, hence the Taekwondo lessons. You can see from the picture his delight and pride written all over his face as he marched towards us with his certificate and new purple belt.
I'm constantly studying for certifications.  When I feel competent in the technology and feel I've studied all I can I'll take the exam.  Passing the exam gives me confidence and sense of achievement much the same way the karate grading's did.  I think we all secretly like shiny new badges.
I'm often asked if certifications are worth the effort and which ones to take.  My response will always be the same, yes, they are extremely valuable and well worth the effort.  You can work with a technology daily for years having never become certified but you'll likely not be aware of the industry / vendor design and implementation best practices or the full functionality of the product.
Studying and taking certification exams give me the assurances I understand the technology / devices I'm working with.  And as already mentioned, I like the shiny badges 🙂
Did I mention how proud of our son my wife and I are? 🙂
Whats your opinion on taking certification exams? add your comments below.